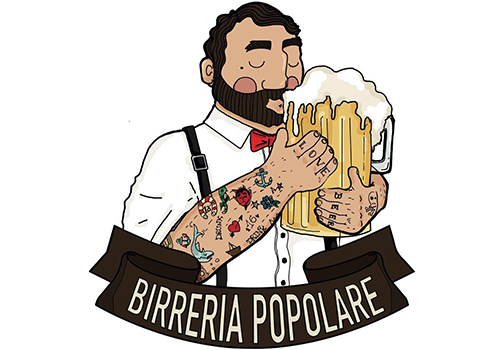 We chose it because: love for beer and conviviality come together along with the attention for small, organic, vegan breweries, and the social side of business.
Birreria Popolare bases itself on love for beer and the community of managers!
This space comes from the experience of life behind the bar, where you can taste excellent beers – some of them are "zero-mile" beers or are produced in organic and vegan microbreweries – joining two worlds together: the world of the small craft breweries and the world of the big award-winning beers, all together along the same bar with twelve draughts. All this is Birreria Popolare: it joins different cultures on the same bar, with particular attention to the staff.
Hospitality and the importance of a real life experience materialize in a 6-meter long counter and in the large community tables where sharing is the focus. One hundred seats, a room with fireplace, and a new way of thinking a bar in a 16th century palace, Palazzo Lupari, in the heart of Bologna.
As they describe themselves: "We created Birreria Popolare for this reason. We are putting our beer and heart at your service, the rest is up to you. Birra Popolare was born for you all."
| | |
| --- | --- |
| | SOCIAL |
| | |
| --- | --- |
| | LOCAL |