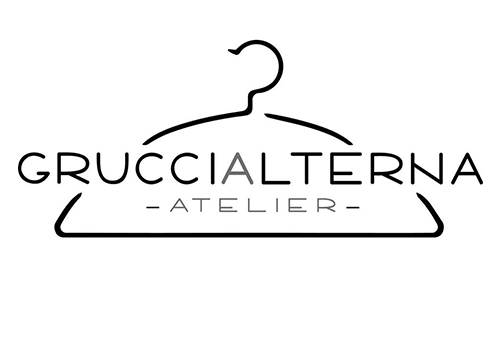 We chose it because: in the world of sustainable fashion, an atelier where all the manufacturing is made in house and in sight is an innovating challenge that we support.
Gruccialterna is an open-door atelier, a tailor's shop filled with fabrics and hangers. It is a place where you can discover the creative process and the manual skills behind each piece of clothing. The atelier was born from dream, from the idea of creating a magic, slow, creative place, full of fabrics and pictures. Francesca and Ilenia still believe in people and in their uniqueness, they dream of a world away from cultural homogenization, a world that loves to bring back old arts and crafts, slow processes, and originality.
They chose to create a tailor's shop that is not exclusive, a place that stages one of the most fascinating expertise of our country. Inside the shop you can find objects from other ateliers: rings, china items, earrings, in the footsteps of a craftsmanship of excellence. But that is not all – Francesca and Ilenia select brands that reuse and recycle materials: bags, costumes and jackets made from materials that you won't expect!
A new conception of design, that regards craftsmanship with innovation and a contemporary approach. It is an atelier that faces the road with open doors and it's not afraid of showing the creative process behind each piece of clothing. A space where you can breathe the tradition of the old shops mixed with the new trends of the Italian craftsmanship.
| | |
| --- | --- |
| | ENVIRONMENT |
| | |
| --- | --- |
| | LOCAL |